Living as a punk in Burma is not only a lifestyle or just a copy of Western trends, it is an act of rebellion. Even though his father is a policeman Kyaw Kyaw, 26, has decided to become a punk to protest against the political and economical situation in his country.
"In Burma I only have freedom of mind", says Kyaw Kyaw. "The new government is mostly made up of members of the former military junta. The change to democracy is just a change in words not a real change." Kyaw Kyaw is the lead singer of the band Rebel Riot, he founded in 2007. He is attracted to punk music, because he likes the disrespectful words of the songs and because the music offers him a way to tackle the problems in Burmese society. Kyaw Kyaw objects mostly to the monk Ashin Wirathu, who implies that the Muslims (accounting for 4 percent of the population) endanger Buddhism and Burma itself. "They make the Muslims a scapegoat to distract from other problems," he says.
Kyaw Kyaw left school at age 16. At school, he had witnessed the military government's attitude toward the educational system. He had watched schools being left to deteriorate due to the government's fear of student riots and of the criticism of an intellectual elite. Today, he earns money by selling handmade punk clothes, jewelry and CDs on roadsides.
Every monday evening Kyaw Kyaw and his punk friends arrange "Food not Bombs". "We don't need war. We need food and Human Rights. I can't change the world or Burma, but I can at least influence the people around me", he says. "The people have two eyes, but they use only one."Kyaw Kyaw, 26, is jumping into the air in front of a temple in Bagan, Burma.Kyaw Kyaw is holding a photo of himself as a monk when he was 20 years old.Kyaw Kyaw is playing guitar in his flat. Neighbours often complain about the loud music.Kyaw Kyaw with friends in the cinema.Kyaw Kyaw, lead singer of punk rock band Rebel Riot, listen to his new song in a Yangon recording studio.Yangon at night. Old houses in the front, expensive hotels in the background.Oakar, 23, member of punk rock group Rebel Riot is smoking a cigarette. On his trousers is a sticker against Nazis. The punks speak out in their song texts and to the media against Buddhist monks instigating violence against Muslims while others in Myanmar are silent.Every monday a group of punks including Kyaw Kyaw distribute food rations for homeless people in Yangon. They call this event "Food not Bombs".Construction site in Yangon. It has become very expensive to rent an apartment in Yangon.Kyaw Kyaw in front of his punk shop in which he sells self-produced punk clothes and CDs.
Kyaw Kyaw at lunch together with his mother in her apartment.Kyaw Kyaw, lead singer and songwriter of punk rock band Rebel Riot, rehearses in a Yangon studio, Myanmar.
Oakar, 23, is playing guitar.Every monday a group of punks including Kyaw Kyaw distribute food rations near the Yangon railway station for homeless people. They call this event "Food not Bombs".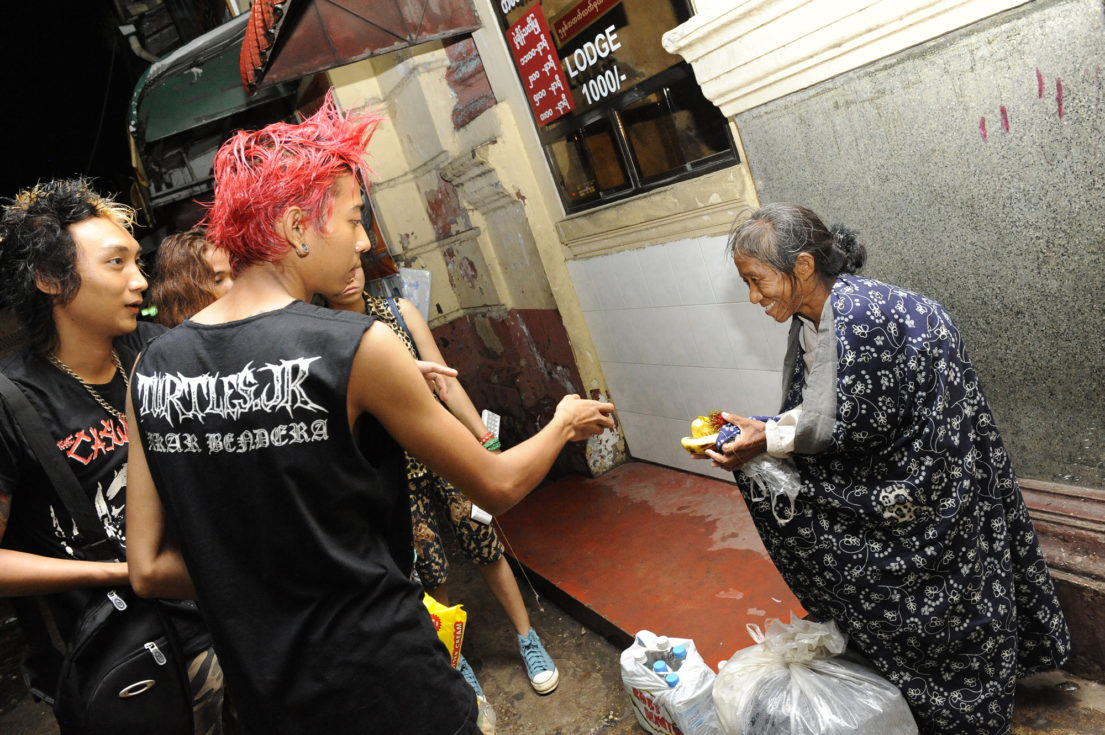 Kyaw Kyaw stubs out a cigerette in his mouth.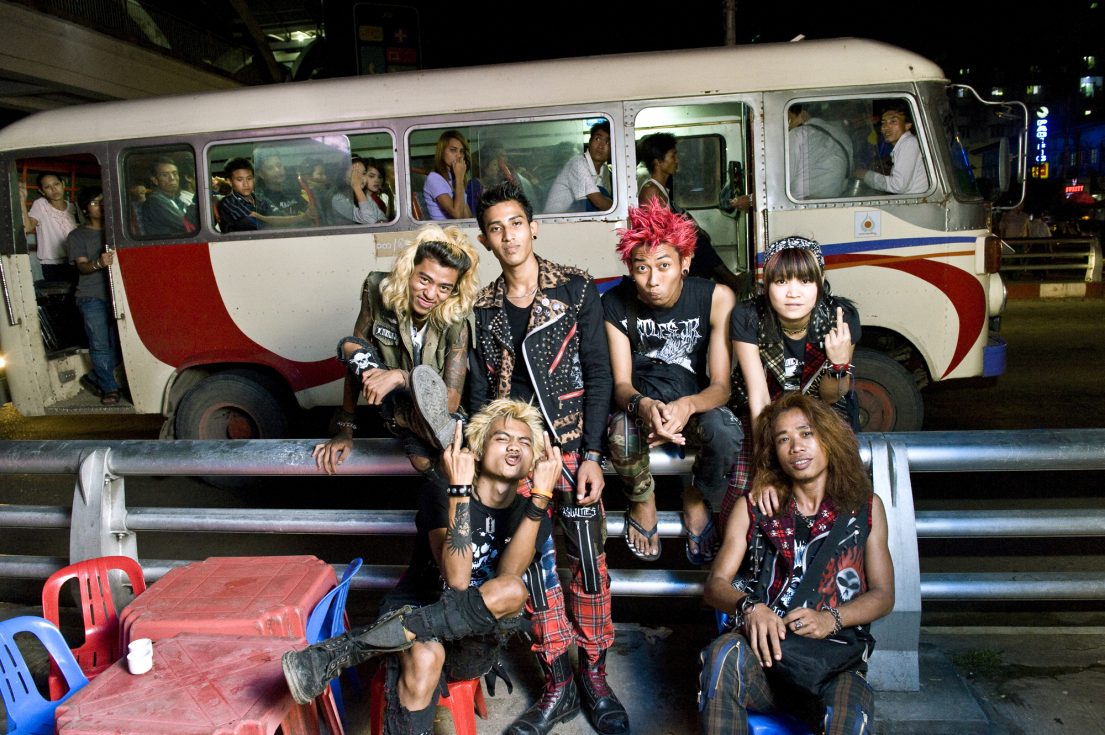 Kyaw Kyaw is meditating in the Shwedagon Pagoda, Yangon, Burma. Twice in his life he was a monk for four weeks each time. There he learned to meditate. Kyaw Kyaw is sitting on a tank located in a public park in Yangon.Kyaw Kyaw in front of a picture with a traditional burmese house.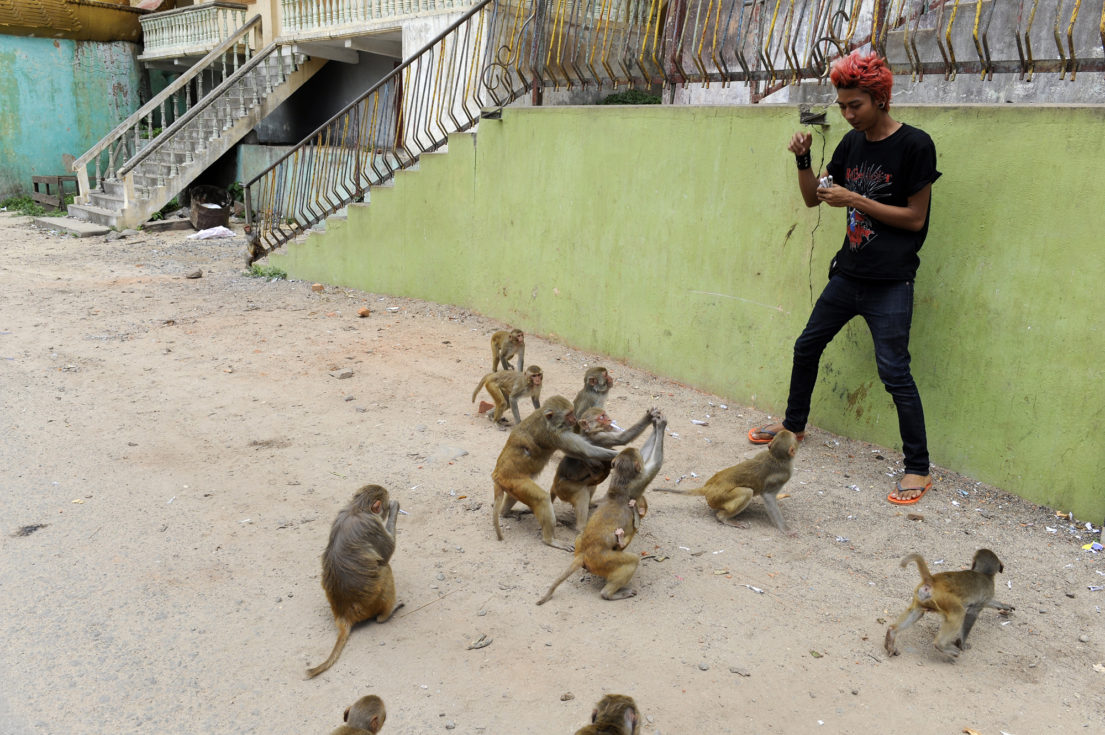 Kyaw Kyaw sitting in a train and joking with children.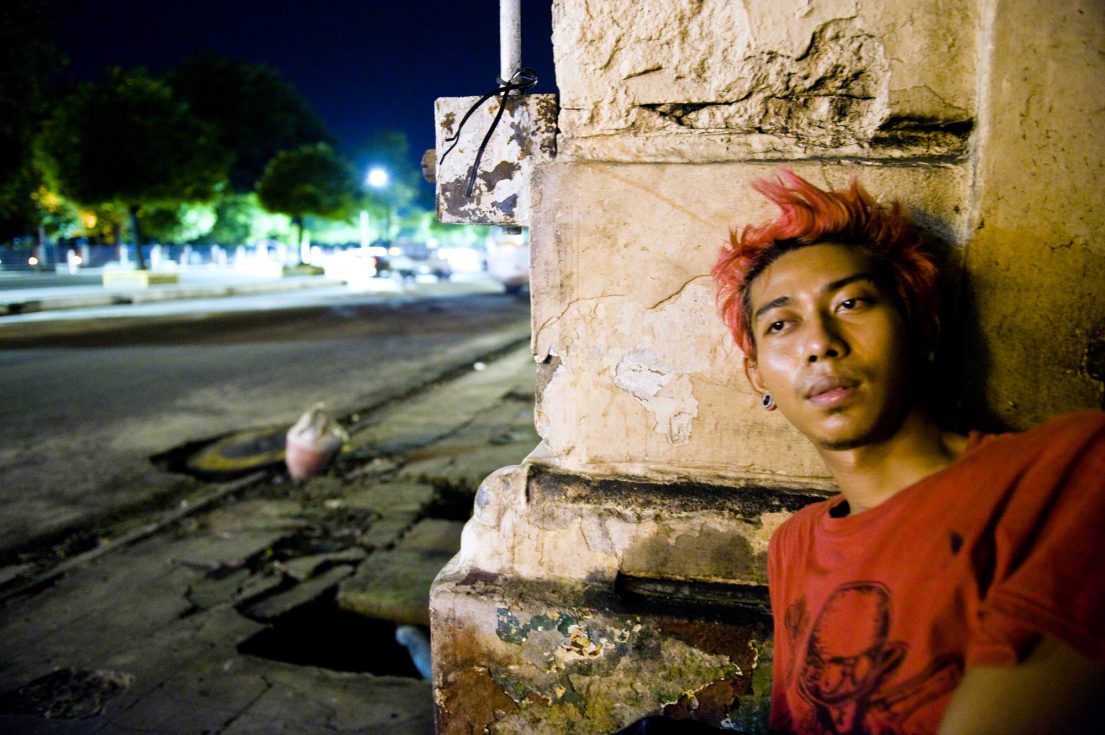 The Story was adapted from sandrahoyn.dehttps://www.sandrahoyn.de/portfolio/the-punk-of-burma/.